June's Full Moon | The Full Strawberry Moon
June's Full Moon | The Full Strawberry Moon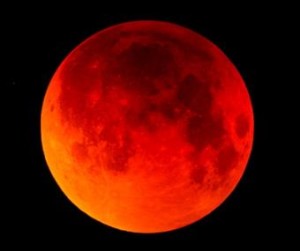 The month of June's Full Moon is called the Full Strawberry Moon.  June's Full Strawberry Moon got its name because the Algonquian tribes of North America knew it as a signal to gather ripening fruit (especially strawberries).
It is often known as the Full Rose Moon in Europe (where strawberries aren't native).  In Cree it is called Sagipukawipizun, meaning "moon when the leaves come out."  Other names are Honey Moon, Hot Moon, and Planting Moon.  In Hindi it is known as Wat Poornima and its Sinhala (Buddhist) name is Poson.
The full moon rises around sunset and sets around sunrise, the only night in the month when the moon is in the sky all night long.  The rest of the month, the moon spends at least some time in the daytime sky. This year June's Full Moon falls on June 23, 2013 at 4:32 PDT.  Thus, for many, the moon appears about equally full in the June 22 sky as it does on June 23.  
This full moon is not only the closest and largest full moon of the year, it also presents the moon's closest encounter with Earth for all of 2013!  The moon will not be so close again until August, 2014. This sort of close full moon is called a perigee full moon.  The word perigee describes the moon's closest point to Earth for a given month.
Two years ago, when the closest and largest full moon fell on March 19, 2011, many used a term we'd never heard before: supermoon.  Last year, we heard this term again to describe the year's closest full moon on May 6, 2012.  Now the term supermoon is being used a lot.  Last month's full moon – May 24-25, 2013 – was also a supermoon.  But June's full moon is even more super!  In other words, the time of full moon falls even closer to the time of perigee, the moon's closest point to Earth.  The crest of June's Full Moon phase in 2013, and perigee, fall within an hour of each other.  Because the moon – as always – shines opposite the sun in our sky at full moon, you'll see the moon beaming all night that night from dusk until dawn.
Plus with June's Full Moon being extra-close it is likely to usher in larger tides along the ocean shorelines for the next several days, especially if these high tides are accompanied by strong onshore winds.  So keep an eye on the weather and watch out for any (unlikely) flooding.
June's Strawberry Moon Phase Dates & Times 2013
All dates and times are PDT.
| | |
| --- | --- |
| | New Moon: June 8, 8:56 A.M. |
| | First Quarter: June 16, 10:24 A.M. |
| | Full Moon: June 23, 4:32 A.M. |
| | Last Quarter: June 30, 9:54 A.M. |
Check out this link for a great visual of Stargazing Events for June 2013.
To make sure you don't miss the next full Moon, see our Full Moon Dates and Times chart.
[easyazon-image align="none" asin="B004EFYZ1C" locale="us" height="30″ src="http://ecx.images-amazon.com/images/I/714XVde0uvL._SL30_.png" width="30″] Moon Phase Pro is a great app we found for keeping track of each month's full moon.  With it you can:
View the moon's current phase and crescent angle
Easily change observer date, time, or location
Check moon phases for the entire month on the Calendar page
Drill down to more astronomical details on the Data page
Get notification 24 hours before new, full, and quarter moons
[easyazon-cta align="none" asin="B004EFYZ1C" height="28″ key="amazon-us-small-orange" locale="us" width="120″]
June's Full Moon | The Full Strawberry Moon
** Don't forget to leave a comment below if you're lucky enough to see June's Full Moon! **