September's Full Moon | The Full Harvest Moon
September's Full Moon | The Full Harvest Moon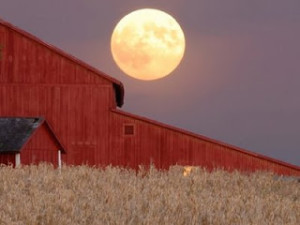 The month of September's Full Moon is called the Full Harvest Moon.  The Harvest Moon gets its name from farmers who relied on the moon and its celestial schedule to harvest their crops.  Since most crops ripen in late summer and early autumn, farmers would have to harvest during this time of the year. "In the days before electric lights, farmers depended on bright moonlight to extend the workday beyond sunset," wrote NASA's Dr. Tony Phillips. "It was the only way they could gather their ripening crops in time for market…and it was always a welcome sight."
In years when the Harvest Moon falls in October, the September full Moon is usually known as the Full Corn Moon because it traditionally corresponds with the time of harvesting corn.  It is also called the Barley Moon, because it is the time to harvest and thresh the ripened barley.
The term "Harvest Moon" or "Corn Moon," is also used to describe the full moon that occurs closest to fall's equinox.  For those of you who live in North America, the full moon is expected to rise shortly after sunset (depending on your location) on Sept. 18 and will peak at 4:13 a.m. PDT the next morning.
The Harvest Moon will be especially visible during the overnight hours, even though it won't actually be "full" until Thursday morning.  You should get ready for a special sight this year: with the autumnal equinox set to fall on Sept. 22, the 2013 Harvest Moon will be in full bloom Wednesday night.
Meanwhile, in Asia, the moon turns full after sunset September 19.  People in that region of the globe will call the night of September 19-20 the night of the full moon.  In fact, September 19, 2013 is the night of the Mid-Autumn Festival in Asia, which is linked to this full moon.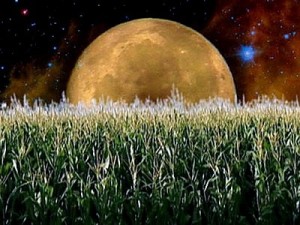 Check out this link for a more in-depth visual of September's Moon Phases.
To make sure you don't miss the next full Moon, see our Full Moon Dates and Times chart.
[easyazon-image align="none" asin="B004EFYZ1C" locale="us" height="30″ src="http://ecx.images-amazon.com/images/I/714XVde0uvL._SL30_.png" width="30″] Moon Phase Pro is a great app we found for keeping track of each month's full moon.  With it you can:
View the moon's current phase and crescent angle
Easily change observer date, time, or location
Check moon phases for the entire month on the Calendar page
Drill down to more astronomical details on the Data page
Get notification 24 hours before new, full, and quarter moons
[easyazon-cta align="none" asin="B004EFYZ1C" height="28″ key="amazon-us-small-orange" locale="us" width="120″]
September's Full Moon | The Full Harvest Moon
* Don't forget to leave a comment below if you're lucky enough to see September's Full Moon! *