August's Full Moon | The Full Sturgeon Moon
August's Full Moon | The Full Sturgeon Moon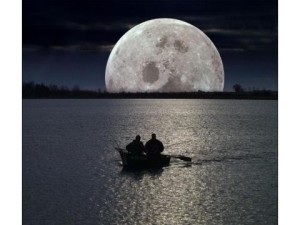 The month of August's Full Moon is called the Full Sturgeon Moon.  August's Full Sturgeon Moon got its name because some Native American tribes (especially the Algonquian peoples of Eastern North America) knew that the sturgeon of the Great Lakes and Lake Champlain were most readily caught during this full Moon.
Different tribes had different Moon name preferences.  Other examples for August are: Wheat Cut Moon (San Ildefonso, and San Juan), or "Moon When All Things Ripen" (Dakotah Sioux) or "Blueberry Moon" (Ojibway).
Another name for this month's full moon is the Full Red Moon, because the weather and atmospheric conditions during this season can often make the moon look reddish when it rises through a haze.
And finally, because crops grow tall at this time of year, this month's moon is sometimes called the Green Corn Moon or the Grain Moon.
August's Full Moon is special this year because it is also a Blue Moon.
There are two definitions of blue moons.
This month's blue moon is an extra summer moon, which is the third moon of four in the season that started on the June solstice.  In most seasons, there are three full moons, but once in a while there are four moons.  The extra moon is called a blue moon.
A blue moon is also defined as the second of two full moons within any given calendar month and is a rare occurrence; hence the phrase "once in a blue moon" which indicates the rarity of an event.  All calendar months, aside from February, have 30 or 31 days, resulting in the occasional two full moons within a single month.  Under this meaning of the 'blue moon', the last blue moon was on Aug, 31, 2012.  The next 'blue moon' will not occur until July 2015.
The name of this rare event comes from the colors the moon takes on from time to time due to different atmospheric conditions.  After volcanic activity or forest fires, the moon can appear to take on a bluish or sometimes lavender coloration.  This is because of soot and ash particles deposited high up into the Earth's atmosphere.
Check out this link for a more in-depth visual of August's Moon Phases.
To make sure you don't miss the next full Moon, see our Full Moon Dates and Times chart.
[easyazon-image align="none" asin="B004EFYZ1C" locale="us" height="30″ src="http://ecx.images-amazon.com/images/I/714XVde0uvL._SL30_.png" width="30″] Moon Phase Pro is a great app we found for keeping track of each month's full moon.  With it you can:
View the moon's current phase and crescent angle
Easily change observer date, time, or location
Check moon phases for the entire month on the Calendar page
Drill down to more astronomical details on the Data page
Get notification 24 hours before new, full, and quarter moons
[easyazon-cta align="none" asin="B004EFYZ1C" height="28″ key="amazon-us-small-orange" locale="us" width="120″]
August's Full Moon | The Full Sturgeon Moon
** Don't forget to leave a comment below if you're lucky enough to see August's Full Moon! **